In This Story
People Mentioned in This Story
Body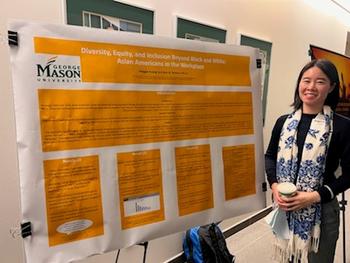 Maggie Huang has a knack for being at the right place at the right time.
The decision to quit her job after more than six years at Google in San Francisco during the pandemic and move all the way to Washington, D.C., landed her at one of the universities in the nation that champions diversity and inclusiveness—George Mason University.
The relocation was the result of deciding to pursue her passion for helping people and organizations be their best. To do so, she enrolled in the Organization Development and Knowledge Management (ODKM) program at Schar School of Policy of Government. ODKM, directed by Schar School professor Tojo Thatchenkery, features an internationally renowned faculty that works to connect theory and practice in a student-centered learning experience geared to understanding and developing team-based, knowledge-intensive organizations and professionals.
Her move and her studies have led to this: In early February, Huang became a recipient of the spring 2023 Mentoring for Anti-Racism and Inclusive Excellence (MARIE) Award, a presidential-level honor that includes a substantial monetary award intended to allow recipients to spend concentrated time on their projects under the guidance of a mentor. Mason President Gregory Washington created the Anti-Racism and Inclusive Excellence (ARIE) Taskforce in July 2020 to ensure the school develops an inclusive and equitable campus environment in which every member of the community, without exception, is valued, supported, and experiences a sense of belonging.
The award stems from Huang's independent study course last summer that examines the professional experiences of Asian American and Native Hawaiian/Pacific Islander (AANHPI) women in the U.S. "I do not often see people who look like me widely represented in academic curricula, mainstream culture, or at leadership levels in organizations," she said. The award, she said, verifies what she felt in her "heart of hearts" regarding AANHPI women and will help her continue her work.
Huang's work will contribute to the diversity, equity, and inclusion (DEI) efforts at Mason and, by extension, further spotlight AANHPI communities, women of color, and intersectional communities beyond the Mason campuses.
"First, receiving this grant makes me feel like our experiences matter," she said of the MARIE award. "Second, the grant is literally a financial lifeline that provides the resources and support I need to do my best work. Third, it facilitates an amazing opportunity that is not only personally meaningful but also intellectually stimulating, especially under the mentorship of the amazing Dr. Ann Romosz," she said.
"Maggie is an exceptional student that represents the best of Mason," said Romosz, the adjunct professor who guided Huang through the process of creating her study about [AANHPI] female experiences, including helping her use advanced research tools, developing a research poster, and presenting her findings at an ARIE conference. "I agreed to work with her outside of the scope of any course because we worked well together and her dedication and diligence were—and continued to be—infectious," she said.
Eventually student and mentor submitted a grant proposal to Mason, "a first for Maggie," Romosz said, "so we worked together, meeting regularly to discuss questions and best practices in research grant procurement."
The result? "I was overwhelmed to find out that she received the full grant amount that she requested," she said. "The support that we have received for this important work has been extraordinary. I am humbled and honored to work alongside Maggie and with the Mason community. It really has been a joy and a pleasure."
As for working with Huang, Romosz added, "She is dedicated to being an ally and researching ways to improve the life experiences of minorities. She is diligent and kind and an absolute pleasure to work with."