In This Story
People Mentioned in This Story
Body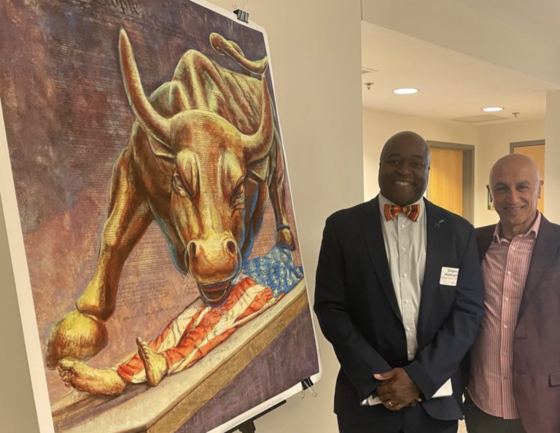 On such an important day, where we encourage our Mason School of Art community to get out and VOTE we are proud to highlight Mason School of Art Faculty Chawky Frenn who participated and presented a poster from his WE THE PEOPLE series at the Anti-Racism and Inclusive Excellence (ARIE) Conference at George Mason University.
Chawky Frenn, is a Lebanese-American painter, educator, author, and recipient of the 2017 Fulbright-Nehru Academic and Professional Excellence Award inNew Delhi, India. Frenn fled his war-torn country and emigrated to the United States, a beacon for democracy and the pinnacle of human rights, in 1981.
According to Frenn, "Through years of living and observing American ideals and politics, I've learned that even in the Land of the Free human rights were always fought for, never given by the ruling powers."
In a decade-long research and creative practice, Frenn produced We the People,a series of 107 mixed-media paintings on posters of the Constitution. Inspired by our times, this seriesis a platform to reflect on issues affecting all of us: national identity, the influence of money on policy and politics, perpetual wars, struggles of Native Americans, African Americans, women, veterans, LGBTQIA+ communities, prisoners, immigrants, and refugees for human rights.
We the People does not encompass a simple political motive but extends a social, civic, humanist, and even ethical agenda. The impact of money on democracy, liberty, and social justice and the struggles for human rights are at once timely and timeless, local and universal.
Frenn believes art is a powerful catalyst for change by presenting repressed perspectives on critical issues of our time. Social justice and human rights inspire his work, a voice for peace, hope, and tolerance.
View the full post here!
Topics