Body
George Mason University's first Anti-Racism and Inclusive Excellence (ARIE) Conference celebrated both the impact of research and the shared goal of shaping a more equitable future.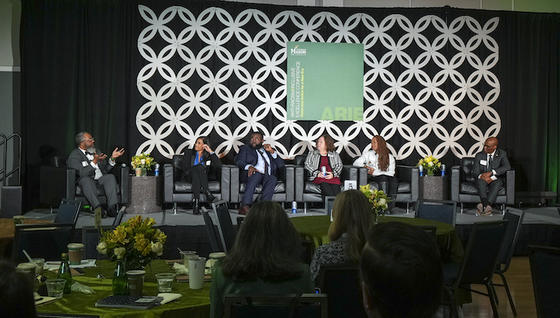 "There's so much research happening today—and this is the beauty of this conference," said keynote speaker Gail Christopher, executive director of the National Collaborative for Health Equity and a senior scholar in Mason's Center for the Advancement of Well-Being. "We can do the research to change the narrative to drive new stories, to amplify those new stories, to demystify and refute the fallacies. Research is an important part of getting rid of antiquated beliefs."
More than 400 people attended the Monday conference either at Mason Square or virtually. Sharnnia Artis, Mason's vice president for diversity, equity, and inclusion, marked the event as a milestone for one of Mason President Gregory Washington's signature objectives. Artis, who facilitated the Mason groups that planned the conference, also served as emcee.
Washington launched ARIE within weeks of arriving at Mason in July 2020 to root out any biases in Mason practices and policies with the ambition that Mason would become a national exemplar for inclusive excellence. Mason is the seventh most diverse public university in the country—and the most diverse public university in Virginia— according to U.S. News & World Report.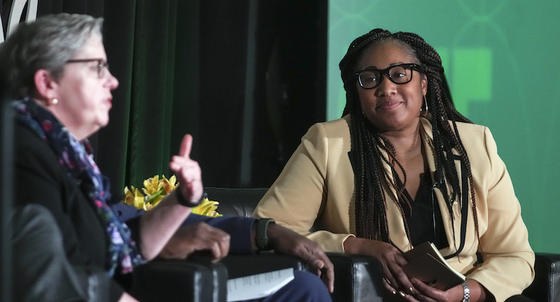 "There is a generation coming behind us—68 million people of the most diverse group of individuals that this country has ever had," Washington said in opening the afternoon session of the conference. "They're going to inherit the country, and they're going to have to know how to deal with an environment that's diverse. They need to be prepared to deal with one another."
Washington later welcomed Northern Virginia Community College President Anne M. Kress and Virginia State University President Makola Abdullah for a presidential panel on advancing anti-racism and inclusive excellence in higher education.
The morning panel focused on conducting research through that lens. It featured three Mason professors and panelists from Harvard and Virginia Commonwealth University.
Charles Chavis, director of Mason's John Mitchell Jr. Program for History, Justice and Race, noted that he had returned the previous day from a research trip with students to the Maryland Eastern Shore to work with descendants of racial violence. He talked about treating research subjects as collaborators and partners and empowering them to tell their own story.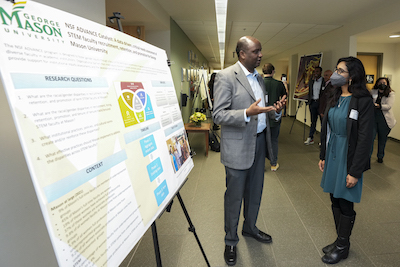 "I see what we do as service first," Chavis said. "And in that service our research needs and our research focus really is birthed out of the expressed needs of those we're serving."
During that morning panel, Jerome Offord Jr., Harvard associate university librarian for anti-racism, said he isn't looking for allies in the cause. He's looking for "co-conspirators." That term caught on in the room came up throughout the day.
"This is not just a BIPOC issue," Offord said. "This is an us issue. I need people who are going to take the risk professionally, personally, academically. People have to be willing to be in the front of the center conversation with me, not in a break room supporting me, not sending me emails saying 'great job.'"
On an afternoon panel about translating research into action, Mason professor of integrative studies and history Wendi Manuel-Scott used the Enslaved People of George Mason Memorial as an example. The memorial, dedicated earlier this year, came about after five students set out to learn more about the people George Mason IV enslaved at Gunston Hall.
Manuel-Scott said that early in her teaching career she used to get "blank eyes" from students when she talked to them about civil rights actions.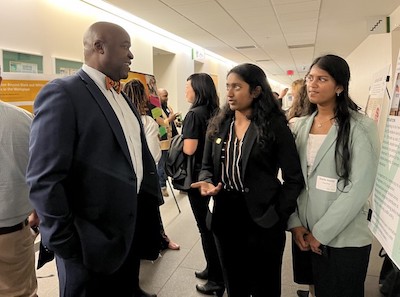 "Today, I don't get blank eyes," she said. "Students are incredibly engaged and passionate and fearless. That is everything. Don't lose that audacity, don't lose that courageous spirit. Continue to ask those questions. Because the memorial that you see today would not exist if our students hadn't been willing to ask the questions that they asked and challenge us as faculty members to step up."
Student and faculty researchers across disciplines displayed about 40 posters highlighting research related to anti-racism and inclusive excellence.
Christopher noted that it takes more than passion to eradicate racism. It requires realistic strategy and creativity to assess the challenges, particularly in the age of disinformation.
"It's a matter of grace and it's a matter of love and understanding that we're all on this journey, and we're each at different places," Christopher said. "There are extremes, and some people will stay at their extreme no matter what. But there is a wide swath in the middle, and our job is to mobilize that middle and to do so with great intention."