Body
It was the summer of 2017, and five George Mason University students and three faculty members were beginning their research into the children enslaved by George Mason IV, the university's namesake.
Wendi Manuel-Scott, a professor of integrative studies and history, and one of the faculty members on the project, recalled how the students at one point "began to talk about how it would be awesome if years from now they came to campus and there's a plaque that honors the enslaved people held by George Mason."
As it turned out, they got much more than a plaque, as what was the Enslaved Children of George Mason project led to the Enslaved People of George Mason Memorial, a focal point of how the university is addressing its identity as it relates to a complicated Patriot.
"The purpose of the project was to raise awareness about George Mason IV, the man, the patriot and the slaveholder," Manuel-Scott said. "Our goal was to focus on expanding our community's understanding of Mason, and to focus on the people he owned and what they thought about freedom."
The memorial on the Fairfax Campus (see the video) is the centerpiece of the newly renovated Wilkins Plaza, named for the African American civil rights leader, Pulitzer Prize-winning journalist, and beloved Mason professor.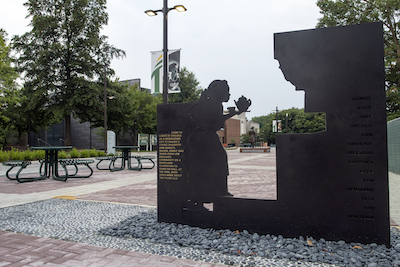 It will be dedicated at 1:30 p.m. on Monday, April 4, as part of the university's 50th anniversary celebration.
"I started that project the summer after my sophomore year, and it sounded cool to have research that maybe would contribute to a memorial on campus," said Mason alum Kye Farrow, BA History '19, MS Management '20. "But it was really difficult at the time to see how it would get there. So, yes, still today, I'm absolutely amazed the work we did went to the product that's there today." 
Other students on the project were Alexis Bracey, BA Global Affairs '19; Ayman Fatima, BS Systems Engineering, BA Government and International Politics '21; Farhaj Murshed, BS Statistics '20; and Elizabeth Perez-Garcia, BS Criminology, Law, and Society '19.
It was important each student came from a different academic discipline, Manuel-Scott said.
"Each brought a different way of seeing and thinking, and a different way to analyze and explore records," she said. "That interdisciplinarity created a richness in terms of the project."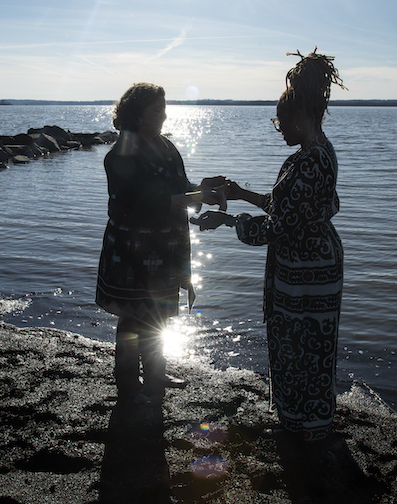 The project was launched by Manuel-Scott; Benedict Carton, a faculty member in History and Art History; and Mason alum George Oberle, Mason's history librarian and a term faculty member in the Department of History and Art History.
All are leaders in the Center for Mason Legacies, an interdisciplinary and collaborative research center established by the University Library and College of Humanities and Social Sciences that encourages student research to preserve and examine the legacy of George Mason IV and the people he enslaved.
The Enslaved People of George Mason project "shows that Mason is striving to be an exemplar institution in relation to the idea of promoting student inquiry and being open to where that goes and takes us, even if it's not always a happy story," Oberle said.
The memorial includes the iconic statue of Mason. A new pedestal includes four quotes which highlight the different aspects of his life, including the penning of the Virginia Declaration of Rights, the foundation of the U.S. Bill of Rights. But Mason also enslaved more than 100 people at his Gunston Hall plantation and did not free any upon his death.
Memorial panels are also dedicated to Penny, an enslaved child given by Mason to his daughter, and James, Mason's personal attendant. A fountain contains stones in a pattern that symbolize an African custom of gathering and prayer.
To acknowledge an altar that was constructed next to the Potomac River by the enslaved at Gunston Hall, and to acknowledge that the land on which the university was built was originally inhabited by indigenous people, water from the Potomac River will be poured into the fountain.
"It's a way to interconnect the worlds, between the place of enslavement, the place of difficulty, but also a place that's life-giving," said Gabrielle Tayac, an associate professor of public history at Mason, and a Piscataway tribal citizen. "To pour the water into the fountain that recalls those connections and all of those hopes and dreams and memories the people had, it's a way of awakening and blending those intentions."
Said Carton: "Our project sought to guide students' sense of moral duty, as they branched out to discover hidden histories. This duty is focused on reconstructing the everyday humanity of enslaved people whose lives had deep meaning, despite the cruelties of enslavement."
"The moral duty," he said, "is in the learning."